The Engraved Vessel Sink
Our studio specializes in high grade engraving of the glass vessel sinks. We use traditional rich cut technique by using stone and diamond wheels to achieve the high quality engraving finish.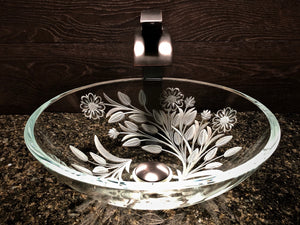 Lotus II
Introducing our newest addition to the collection. This clear glass vessel enhances the Lotus design for more elegant style.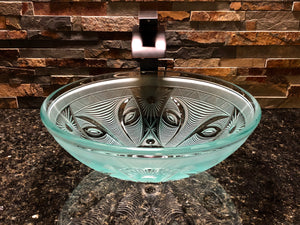 FAQ
How to clean vessels? Use microfiber cloth with water and soft scrub for deeper cleaning and for a quick cleaning Windex works really well.
What are the specifications and colors of the vessels?
Overall product weight is 14lb, standard drain size of 1.75inch, 5.5inch in depth and 16.5 inch in diameter, clear tint of green color glass, round shape with hand engraved design.
How long will it take for the vessel to be delivered? We process our orders within 72 hours from your order date. Most vessels get shipped within 7 days, you should receive your vessel within 8-12 business days via standard UPS or USPS.
How do you engrave the vessels? We use very traditional technique called rich cut using different sizes and styles of stone wheels and diamond wheels. Depending on the design we also polish the vessels with wood wheels and polishing paste.